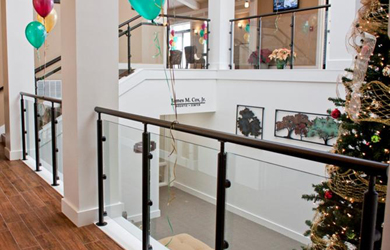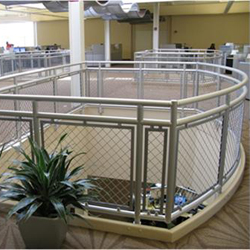 Founded in 1930, HOLLAENDER is a manufacturer of structural fittings, Architectural Products,  and component non-welded aluminum handrail systems.  Various combinations of aluminum pipe, infill panels, and fittings can be selected. Infill panel options include perforated metal, wire mesh, glass and picket.
From "Industrial Chic" to "Totally Modern" Hollaender offers several aluminum handrail systems that meet differing architectural styles and tastes.
SPEED-RAIL slip-on fittings offer flexibility as well as ease and speed of installation.
INTERNA-RAILutilizes "in-line" fittings to provide a sleek architectural finish with anodized fittings and aluminum pipe.
The new VUE railing system is a post mounted railing system for glass or resin panels. The new INTERNA-LIGHT Illuminated Railing System uses LED technology and can be produced in either handrail or guardrail applications.