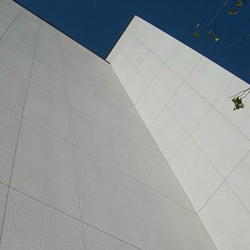 Omnis is a distributor of Petrarch and Stoneflex wall panels.
PETRARCH architectural wall panels are designed to look elegant and remain durable over time, even in the harshest climates.  Petrarch panels are a blend of natural stone fillers, glass fiber and resin.  Manufactured with through color, Petrarch panels offer all the impact resistance and durability of natural stone at a fraction of the cost and are ideal for exteriors and interiors.
STONEFLEX wall panels feature a surface finish of attractive natural stone aggregate designed to provide elegant form and function.  These Architectural Products are lightweight, yet strong, with high impact resistance and are maintenance free, unaffected by climactic extremes, impervious to moisture, chemical resistance and will not delaminate.